3rd International Conference on
Image Processing and Capsule Networks
(ICIPCN-2022)

May 20-21, 2022 | Bangkok, Thailand
Due to Covid-19 travel restrictions, the Conference will be held Online.
Final Paper Submission Deadline
12 May, 2022
Registration Deadline
15 May, 2022
Conference Date
May 20-21, 2022
King Mongkut's University of Technology
Thailand
Dayeh university
Taiwan
Tribhuvan University
Nepal
SCOPE
Image processing has a long and distinguished history spanning nearly six decades. As a matter of fact, the evolution of the general field of image analysis has developed in the context of diverse real-time applications. A notable exception is intelligent image computing, where images processed are typically unstructured. While Artificial Intelligence [AI] algorithms like deep learning and machine learning provides enhanced visualization of the given input images, it also presents new challenges for researchers and practitioners as the numerous methods developed for processing images are generally inapplicable to different unstructured images that are obtained from various real-world applications. In addition, there are remarkable similarities among image features, and with the existing image processing technologies, training massive amounts of data, performing appropriate feature detection from an image pixel and increasing spatial resolution has become significantly challenging, making automated image analysis as a highly challenging paradigm. This is where Capsule Networks comes into play and overcomes all the drawbacks that are present in the existing image processing techniques like CNN.
This International Conference on Image Processing and Capsule Networks [ICIPCN 2022] has as a primary aim to establish an effective medium of knowledge interchange on the results of high quality theoretical and applied research to all aspects of image vision, interpretation and processing. ICICPCN 2022 is highly interested to publish the research works that propose novel image vision and interpretation methodology or address the application of different intelligent image processing methods to real world scenes. ICIPCN 2022 seeks to strengthen a deeper understanding in the image processing discipline by encouraging a quantitative comparison and performance evaluation of the proposed image processing techniques.
CONFERENCE COMMITTEE
Conference Chair
Dr. Joy Iong Zong Chen
Professor, Department of Electrical Engineering
Da-Yeh University
Taiwan.


Technical Program Chairs
Prof. Dr. Subarna Shakya, Department of Electronics and Computer Engineering, Pulchowk Campus, Institute of Engineering Tribhuvan University, Nepal.
Dr. João Manuel R. S. Tavares, Professor, Faculdade de Engenharia, Universidade do Porto, Portugal.
Dr. Fuqian Shi, Rutgers University, New Jersey, United States.
Dr. Abdul M. Elias, Professor. Tokyo Institute of Technology, Tokyo-Japan.
Dr. Ke-Lin Du, Affiliated Associate Professor, Department of Electrical and Computer Engineering, Concordia University, Montreal, Canada.
Dr. Wang Haoxiang, Go Perception Laboratory, Cornell University, USA.
Dr. Tanes Tanitteerapan, Dean Faculty of Industrial Education and Technology, King Mongkut's University of Technology Thonburi, Thailand.
Dr. S. Smys, Professor, Department of CSE, RVS Technical Campus, Coimbatore, India.
Technical Program Committee
Dr. Robert Bestak, Czech Technical University in Prague, Prague, Czech Republic.
Dr. A. Khaled A Kamel, Texas Southern University, USA.
Dr. KyungHi Chang, INHA University, Korea.
Dr. D. Nirmal, Exe Com Member, IEEE Madras Section & Professor and Head, Karunya Institute of Technology and Sciences, Coimbatore, India.
Dr. V. Suma, Professor and Head, Department of Computer Science and Design, Dayananda Sagar College of Engineering, Bangalore, India.
Mr. Ayyappan, HAL, India.
Mr. C.Sudhir, HP, Bangalore, India.
Dr. S.Jennifer, Gnanamani College of Technology, India.
Dr. Vinoth Kanna, Guru Nanak Institute of Technology, Hyderabad, India.
Dr. Durai Pandian, Nehru Institute of Engineering and Technology, Coimbatore, India.
Dr. Jude Hemanth, Associater Professor, Department of ECE, Karunya University, India.
Dr. BH.Sekar, Mangalore University, India.
Dr. Sanjay Sharma, Thapar University, India.
Dr. S.Saravanakumar, Mahindra Research Valley, India.
Dr. K.Elangovan, Country Head, NAFEMS India Operations.
Dr. P. P Joby, Professor & Head, Department of Computer Science and Engineering, St. Joseph's College of Engineering and Technology, Palai, Kerala, India.
Dr. Sunny Joseph Kalayathankal, K. E. College, Mannanam, Kottayam, India.
Dr. Shyam Akashe, ITM University, Gwalior, India.
Dr. Venkata Ramana Mudinepalli, National Taiwan Normal University, Taiwan.
Prof. Dr. Ali M. Eltamaly, King Saud University, Saudi Arabia.
Dr. Hui Ming Wee, Distinguished Professor and Associate Dean and Chaplain, Chung Yuan Christian University.
Dr. Pavel Lafata,Faculty of Electrical Engineering, Czech Technical University, Prague.
Dr. Afreen,Lincoln University College,Malaysia.
Dr. Aung,Lincoln University College,Malaysia.
Dr. Yi-Nan Chung,Dep. of Electrical Engineering,National Changhua University of Education, Taiwan.
Dr. Álvaro Rocha,DEI/FCT,University of Coimbra, Portugal.
Dr. Shaoyi Cheng, EECS, University of California, Berkeley, United States
Dr. Wang Haoxiang, Go Perception Laboratory, Cornell University, USA.
Call for Paper
ICIPCN 2022 provides a standard forum for researchers to discuss the stat-of-the-art theories and ideas associated with real-time image enhancement using deep learning, capsule networks and intelligent learning methods. Also, ICIPCN discusses about all the challenges and limitations of using deep learning and CapsNet models in real-time image processing.
Track-1
Deep learning-based image enhancement
AI-driven computational models for image abnormalities detection
Intelligent learning algorithms for image reconstruction and enhancement
Real-time image security and privacy mechanisms
Content-based retrieval and image generation
Vision-based human-computer interaction
Cognitive aspects of image understanding
Predictive models using CNN/CapsNet
Geometric image processing and analysis
Statistical pattern recognition
Multispectral and hyperspectral imaging and applications
Track-2
Biometrics, forensics, and security
COVID-19 and intelligent imaging processing approaches
Quantum image processing
Explainable deep learning models for images
Capsule based biometric technologies
Soft computing for image processing
Automated & robotic imaging models
Neuromorphic image processing
Artificial intelligence based image signal processing
Novel imaging software and application
Automated quantitative nano imaging
3D image processing models
Deep image processing models for healthcare/industry applications
KEYNOTE SPEAKERS
Dr. R. Kanthavel
Department of Computer Engineering, King Khalid University, Kingdom of Saudi Arabia.
Dr. Shajulin Benedict
Guest Professor of TUM-Germany.
Indian Institute of Information Technology, Kottayam, India.
SUBMISSION
---
Submission of Full Paper:
The submitted paper should come under any one of the domain mentioned in the Call for Papers Section.
Papers not more than 12-15 pages need to be submitted to the conference via designated email id icipcn.conf@gmail.com by the desired deadline mentioned in conference homepage on MS-WORD/LaTex Format.
The full paper should contain the following details of the proposed research work:
Title of the Paper
Abstract
Key Words (Not more than Five Key Words)
Design/ Methodology/ Approach
Purpose
Major Research Findings
Practical Implications
Research Limitations/ Implications
Originality/Value
Conclusion & Future Research Work
All submissions must be written in English, either in an MS Word format or in a Latex format, and must use standard Springer single-column manuscript templates that can be downloaded from:
Click Here For Sample Springer Paper Format
Click Here For Sample Springer Paper Format (LaTex Template)

Review Process:
All submitted papers will be reviewed by three international program committees. ICIPCN takes the protection of intellectual property very seriously. All submissions will be screened for plagiarism and similarity check. By submitting your work, you agree to allow ICIPCN to screen your work for plagiarism.
The paper will be evaluated based on their novelty and innovative research contribution.
Decision:
There are three possible decisions for a submitted full-paper
Accepted with Official Acceptance Letter as an email attachment to proceed with the registration.
Major Revision, the papers should be revised according to reviewer comments to obtain the Official Acceptance Letter.
Rejected. This means the paper will not be considered for the next process even if it revised.
NOTE: Author should register to the conference only after obtaining the Official Acceptance Letter from the conference.
Plagiarism Policy for the Publication
Note that plagiarized articles will be rejected (Must be 15% below excluding references).
Copying of contents from other articles is strictly prohibited. However, it is allowed with proper quotations and citation.
Only articles with 80% original content should be submitted with the expectation of being accepted for ICIPCN 2022 proceedings.
ICIPCN keenly discourages plagiarism in research articles, proposals and survey articles submitted to us.
All articles submitted to ICIPCN will first undergo a plagiarism check before being sent to our technical program committee for review.
Articles failing plagiarism check will be subjected to rejection without any review.
PUBLICATION
All registered and presented papers will be published in
Springer - Lecture Notes in Networks and Systems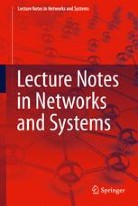 Series Editor: Kacprzyk, Janusz
ISSN: 2367-3370
Springer LNNS Series Link
REGISTRATION
At least one author of each accepted full paper is required to register to ICIPCN to have his/her paper published in the ICIPCN 2022 conference proceedings. The full paper must be presented at the conference by one author to be submitted for publication in Springer. The presenter must register at the appropriate author rate no later than registration deadline mentioned in the conference homepage.
General Guidelines:
Registered members are asked to provide intimation about their payments immediately.
After completion of registration, every participant is required to send a scanned copy of the registration fee receipt or transaction proof to us immediately via Email.
Any modification in the paper will not be accepted after the final submission date.
All the authors of the paper will be allowed per Registration.
Write / Call coordinator as soon as possible, in case of registration beyond deadlines.
Required Registration Documents:
Final Camera Ready Paper
Please revise your paper carefully according to the comments of the reviewers. Papers must be formatted according to the guidelines of Springer.
Before uploading your camera ready paper in ICIPCN, please:
Check the paper title mentioned in ICIPCN acceptance letter match your camera-ready paper exactly.
Use only Title Case for the paper title by capitalizing all main words.
Do not use academic titles such as Dr., Prof., HoD, Director etc... in your final paper.
The abstract and title should be readable stand-alone and not contain any references or unexplained acronyms.
You are allowed to modify content in paper yourself. You cannot modify the title for the paper and author list & order, please send an email to icipcn.conf@gmail.com if that is necessary and give a valid reason.
Springer Publishing Agreement (Consent to Publish)
Submit scanned copy of signed copyright form in PDF or image format. Each final camera ready paper must be accompanied by a Springer Publishing Agreement. The corresponding author should sign on behalf of all of the authors of a particular paper. In this case, the corresponding author signs for and accepts responsibility for releasing the material on behalf of any and all co-authors.
Click Here to Download Permission Request form
Click Here to Download the Publishing Agreement (Consent to Publish)

---
Registration Fee:
Author:
200 USD per paper
Listener:
120 USD
---
Payment Options:
---
Send the revised manuscript (in both .doc/.zip and .pdf), response to reviewer comments (mention the page number and section number), Scanned copy of publishing agreement(signed by corresponding author) and payment screen snapshot to icipcn.conf@gmail.com
---
Registration fee includes,
Admission to Opening Tracks, Panels, Keynote Talk and Scientific Sessions
All Conference Material including the Conference Proceeding Softcopy
Individual Certificate of Participation
Virtual Networking
Springer Publication
---
Cancellation Policy:
Registrations that are cancelled 60 days in prior to the conference are eligible to a refund of 75% on the registration fee.
Registrations that are cancelled in less than 60 but more than 30 days prior to the conference will be eligible to a refund of 50% on the registration fee.
Cancellations made in less than 30 days prior to the conference will not be eligible for any refund.
The bank charges incurred while refunding the registration fee should be totally borne by the participants.
The discounted registration fees are non-refundable.
VENUE
Due to Covid-19 travel restrictions, the Conference will be held Online.
CONTACT
Dr. Joy Iong Zong Chen
Conference Chair
ICIPCN 2022

icipcn.conf@gmail.com